A View From Above Kit^
Out of Stock
Bringing Home ChristmasThrow Kit Quilt by John Sloane^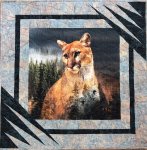 Call of the Wild - Cougar Kit
Call of the Wild - Mountain Stag Kit
Out of Stock
Dandy Dinos Kit
Fall Festival Scarecrow Panel Kit^
Happy Haunting Kit^

Happy Haunting Panel by Northcott


Holiday Homestead Sprocketz Kit

Kit includes the pattern and all fabrics necessary to make the quilt top as shown in the photo, and also includes the binding. Backing fabric needs to be purchased separately.


Holly Jolly Christmas Panel Kit

Kit contains all fabrics to make the wallhanging, as shown. Pattern is included in kit. Backing fabric must be purchased separately.


Ol St Nick Panel Kit
Out of Stock
Shenandoah Wild Meadow Kit
Out of Stock
Snow Days Kit
Snowy Wishes Kit
Out of Stock
Solitary Sentinal Kit
Spaceman Quilt Kit using NASA Fabric & Villa Rosa Designs

NASA-Spaceman Quilt Kit


Under The Pines Panel Kit ^